Suffering from foot, ankle or heel pain?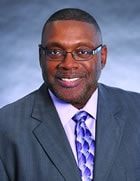 Morris A. Stribling
Podiatrist Morris Stribling, DPM of Foot Care of Central San Antonio prides his practice as a one-stop shop for all of his patients' foot and ankle care needs. Dr. Stribling is dedicated to providing quality podiatric services for a range of lower extremity concerns. Foot Care of Central San Antonio is conveniently located in San Antonio, TX.
Aside from a podiatry practice, Foot Care of Central San Antonio also encompasses a spa, licensed pharmacy, and The Foot Store, a retail outlet providing specialized shoes and foot health care products. In office, Dr. Stribling treats a variety of foot and ankle problems, but specializes in orthotics, forefoot surgery, and the treatment of nail fungus.
We regularly participate in various office-based research studies with Element Research Group. If you would like to participate in a future study or learn more, please contact the office for more information.
Foot Care of Central San Antonio accepts multiple insurance plans and welcomes new patients.
Call (210) 224-9214 today!